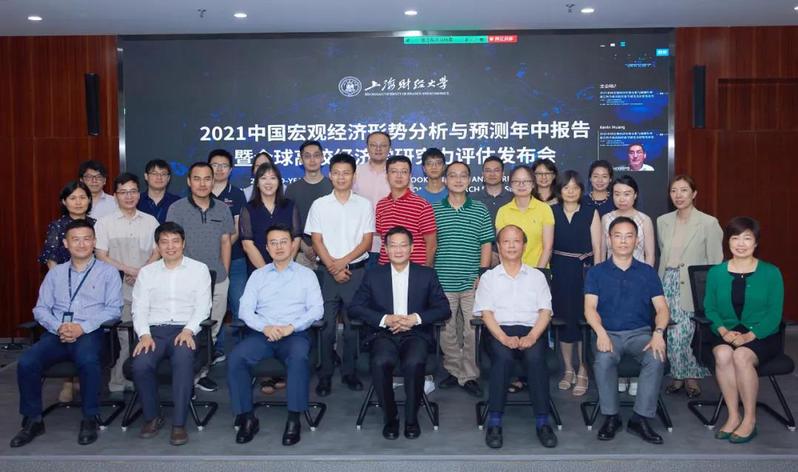 On July 11, the Institute for Advanced Research of Shanghai University of Finance and Economics released the 2021 Mid-Year Report of China's Macroeconomic Analysis and Forecast in Shanghai. With the theme of "China's Economy in the New Pattern: Changes and Responses", the report analyzed how to deal with the complexity and long-term nature of the overlapping of various unfavorable international factors and deep-rooted domestic problems, make accurate predictions of potential economic and financial risks, and properly prepare for various difficult and challenging situations though China's economy rebounded well in the first half of the year and macro indicators steadily recovered.
Professor Tian Guoqiang, the Principal Investigator of "China's Macroeconomic Analysis and Forecast" project, and the team gave a general introduction and specific interpretations of the report respectively. Guest speakers are invited to the Conference, including Songcheng Sheng, Professor of SUFE and former head of the Statistics and Analysis Department of the People's Bank of China; Zeyong Zhao, Second-class Inspector of Policy Research Office, Ministry of Finance; Congyan Tan, Vice President of China Institute of Finance and Capital Markets; Jianping Jiang, former Director of the Bureau of Local Taxation of Jiangsu Province; Qiu Zhang, General Manager of Shanghai Chang Yuan Investment Management Ltd.
The conference was hosted by Youzhi Yang, Assistant to Dean, while Prof. Guoqiang Tian and other experts and team members of the project team, Vice Dean Liguo Lin, and over 100 attendees from governmental agencies, financial institutions, and media attended the conference.
Guoqiang Tian gave a brief introduction the China Macroeconomic Analysis and Forecast Project and the 2021 mid-year report and a basic judgment on the trend of China's macroeconomic situation. He pointed out that since this year, China's economy has rebounded well with macro indicators have steadily recovered. However, with serious and complex epidemic situation abroad, high external uncertainty and China's unbalanced and insufficient economic development, the foundation of economic recovery is not solid, while pressures still exist to maintain a balance between stable growth and risk prevention.
Afterwards, the project team gave a specific interpretation of the mid-year report. The team shared their research on the macroeconomic performance of the first half of the year. They paid full attention to the prevention and resolution of various risks, giving relevant results and views on economic trends, short-term policy responses and medium- and long-term governance under different scenarios.
After the report release, the guest speakers commented on the mid-year report. Songcheng Sheng and Congyan Tan also made keynote speeches titled "Across-the-board RRR Cuts for Stable Economic Development" and "Characteristics of China's Economy in the First Half of the Year and an Outlook" respectively.