Prof. Shangjin Wei from Columbia University's Graduate School of Business gave a talk on the theme of "An unhealthy trade surplus?" in IAR on the afternoon of October 23, as a part of "China Economy: Theories and Policies" seminar series. Professor Fang Wang, Secretary of the Party Committee of the School of Economics, Associate Professor Liguo Lin, Associate Dean of the IAR, Associate Professor Yuanyuan Chen, Assistant to the Dean of the IAR and other teachers and students attended the seminar.
Prof. Wei talked about his one recent paper based on simple linear regression, which found that a trade surplus may lead to increased health hazard and hence reduce welfare. He pointed out that a trade surplus often changed the shipping cost of imports and would result in higher imports of industrial waste. If the importing country has weak environmental standards or weak law enforcement, it will lead to more pollution and health problems.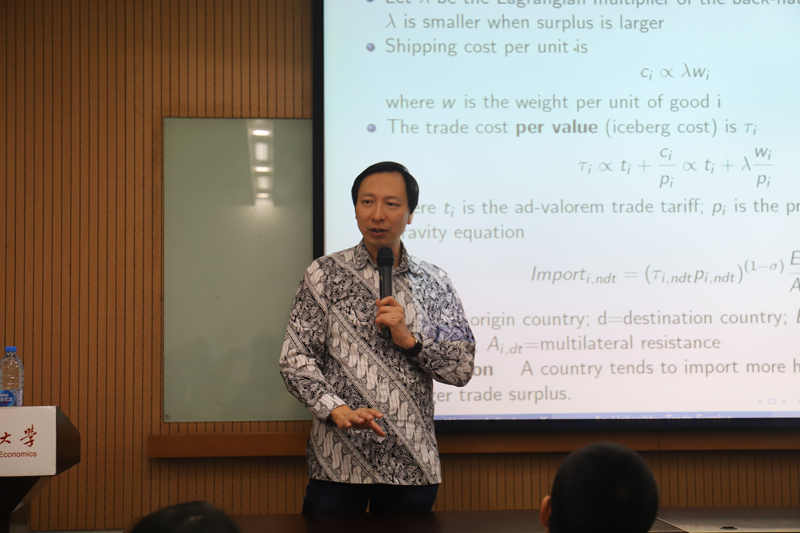 Prof. Wei is Professor of Chinese Business and Economy and Professor of Finance and Economics at Columbia University's Graduate School of Business and School of International and Public Affairs and a noted scholar on international finance, trade, macroeconomics, and China. He is a recipient of the Sun Yefang Prize for Distinguished Contributions to Economics (for the invention of the Competitive Saving Motive). During 2014-2016, Dr. Wei served as Chief Economist of Asian Development Bank.